Some green beauty brands are simply everyone's favorite because they're consistently creating effective, luxe, top-shelf product.

 Kypris is one of them.  In fact, I think you'd be hard-pressed to find someone who tried them and absolutely didn't love them.  Here's my take on two of the latest

products I've been using from them!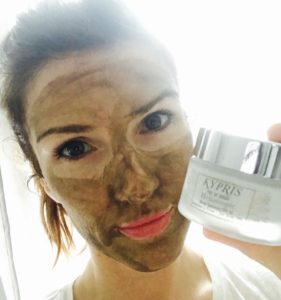 My first thoughts when using 

Deep Forest Clay Mask

 were, "I absolutely love the smell" and, "Could this possibly be the easiest mask I've ever applied in my life?"  Deep Forest smells just like a pine forest as it's energizing, fresh and clean.  Another thing that's cool about this mask is that it does not need to be mixed.  Deep Forest arrives as a light, creamy green paste that has a very slight grain texture to it.  There's nothing messy about it and it applies so easily.  You can also use this as a daily exfoliator, but I prefer to keep it on for around 20 minutes as a mask.  It's recommended that you use this mask up to three times a week, but it's so gentle and effective, that I find myself reaching for it more often, especially after having had SPF on my face.   Benefits of the mask?  Deep Forest will gently exfoliate your skin, both "chemically and physically."  It also detoxifies, softens, keeps skin hydrated and it definitely leaves skin looking brighter and clearer.  This is an excellent mask to use if you want to kickstart your skin and start over.  With it's "cleansing clay, mineral-rich oceanic salt, soothing algae, botanical exfoliants, medicinal trees, roots, leaves, and flowers" your skin will be cared for on all levels.  Kypris has a reputation for using the purest and best ingredients and this mask is truly a stand-out.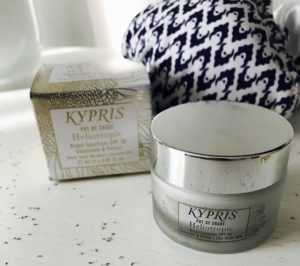 I'd been dying to try this gluten-free Pot Of Shade: Heliotropic sunscreen ever since I heard about it. Why? Well, it's Kypris, and I just knew they were going to knock it out of the park.  When a brand with their reputation launches a sunscreen, you know it's going to be stellar. This creamy, light sunscreen feels just like you're applying a day cream.  There's no white residue, it's unscented, it glides on the skin and it hydrates with botanicals (no dry spf feel).  Excellent before makeup, I would wear this even if it wasn't a broad spectrum SPF 30.  It truly feels wonderful on the skin and, unlike some other sunscreen products, it's perfect for applying over your face oil.  It's also free from essential oils, it's unscented, you need only a little and it's non-irritating for those with sensitive skins.  I am highly recommending this if you're one of those people who loves a wearing a daily SPF (as everyone should) but don't like a thick, sticky, heavy spf feel.  In a nutshell?  Nothing about this sunscreen feels like a sunscreen!
Click Here For Original Source Of The Article