Green beauty hair products can be tricky so I was thrilled to have found EVOLVh.  

This line is all about soft, shiny, healthy hair.  Wanna know how much I love it?  My hair salon in NYC,

 Pembley

,

 is now carrying it!  So, if you're in NYC and need to pick up some, go visit them!
Bottom line, you'll gets lots of smooth, shiny hair from this vegan, gluten-free and paraben-free shampoo.  Plus, the shampoo has a light, pretty scent, and it, surprisingly, stays in hair (which is pretty rare).  This shampoo won't weigh down your hair and it's the closest thing to conventional shampoo that I've ever tried.  Expect clean, shiny hair, nothing else!  Don't wanna commit?  Get the Restore Try It Kit!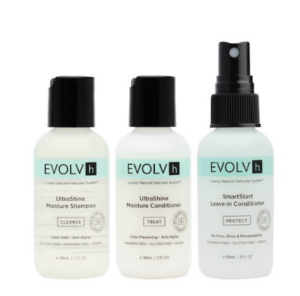 This conditioner, like the shampoo, will not, I repeat, not weigh down your hair.  It gives just enough moisture and leaves hair soft and smelling wonderful!  I usually don't apply conditioner to my bangs and scalp, but this one you can apply everywhere without any worry of that oily look!   Bonus?  It's vegan, gluten-free and paraben-free.  Wanna try it first?  Get the Restore Try It Kit!
Just get this.  That's all I'm saying.  Beyond the fact that it smells so fantastic, (from 100% essential oils) this silicone-free leave-in conditioner really, really works.  The best news is that it also does not leave the hair looking oily or weighed down (you can tell that this is an issue with green beauty hair care, right?)  If you blow dry your hair or have coarse gray hair, this is an essential as the light formula will smooth and leave it swinging and shiny (yeah, mine swings).  If you do any kind of heat-styling should should definitely own this (also comes in a bit bottle, too!)  Smartstart can be used on wet or dry hair and is vegan and gluten-free.  Get the Restore Try It Kit if you wish to try it out before committing!
So, my hairdresser put this on my hair the other day after she did my toner.  She had been going on about it and I told her I hadn't tried it yet, so she gave me a sample and the rest is history.  Not only did I love the smell (nectarine) of this mask, but it totally left my hair soft and hydrated.  So, if you're between color treatments, suffer from dry hair, have coarse gray hair or just need a deep moisture treatment to "feed" your hair once a week, go for this.
Click Here For Original Source Of The Article