So nourishing and everything smells amazing!  I now see why green beauty bloggers love 
Blue

LaBelle
!
  Right now, take 15% off  of their Divine Blend Multi-tasking Treatment Oil (now comes in travel size, too) with code: 
DIVINEGPJ here.
The oil you will never want to run out of is here and now it's also in a new travel size, too!  Blue LaBelle's Divine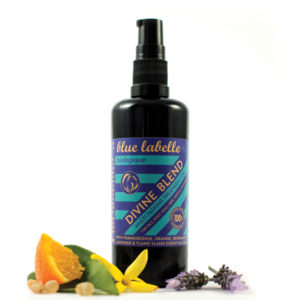 Blend can be used for everything: hair, body, massage, bath and even as a face cleanser!  I'm loooooving it! Blended by hand, it's vegan, 100% organic and the scent of it is just so pretty and light and I love how easy the bottle is to use in the bathroom. The ingredients are chosen to reduce dryness, smell wonderful and condition whatever you're using it on.  I love the way this has made my hair feel – super strong and soft and I think it's a perfect treatment between colorings or when you feel your ends are starting to get a bit crunchy.  On the body?  Well, my skin smells soooo good, looks dewy and is hydrated!   One oil for everything, making it great for travel, right?   DEAL:  My readers take 15% off  of their Divine Blend (full size or travel size) with code: DIVINEGPJ here.
The best clean I get is when I use a cleansing oil to massage away dirt, makeup and SPF and then remove it with a warm cloth. Blue LaBelle's Chamomile + Avocado Cleansing Oil has become a new favorite.  Why?  Well, first off, it gets everything off and you get a really great clean.  It also leaves the skin so soft and hydrated, unlike other cleansers that feel like they're stripping your skin while cleaning. Bonus?  The scent of it is wonderful. with three of my top scents:  chamomile, geranium and palmarosa!   With 100% botanical ingredients, this cleanser is more like a treatment than just a way to clean the skin. If your skin is feeling extra dry, I recommend massaging this cleanser in and then holding a warm towel over your face for 15 seconds. Then, wipe it off. It's jam-packed with nutrients, great for all skin types and has ingredients that draw impurities from the skin. 
I receive a lot of face oils to test and I have only one drop of this left.  What does that tell you?   I'm not kidding, I have chosen to take Blue Labelle's Marula + Amaranth Face Oil with me on all of my recent trips.  This oil perfectly hydrates my skin and leaves me without needing anything else.  It's non-greasy and absorbs fast, so I don't have to wait to apply my makeup.  I also love the pretty, subtle scent of it.  I think the thing that I most love about it is that it doesn't have a thick, oily feel, but rather feels light and nourishing.  Big fan here!
Click Here For Original Source Of The Article