Hey, uhm, so we kinda have a responsibility to shift what's happening on this planet starting…uh, now. We're trashing Earth and our wildlife and oceans are suffering as a result.  Here's some small changes you can make that will offer this planet some big results.  Thanks for reading!

 
COFFEE?  TEA?  STARBUCKS LOVER?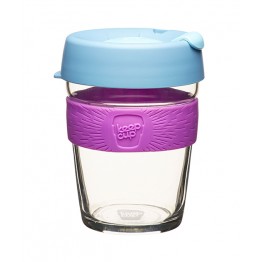 Keep Cups.  Okay, time's up, everyone.  It's enough with the coffee/tea "disposable" cups.  This is what you need and why you need it:
• Over 58 billion disposable cups are discarded to landfills, so that's, 158 disposable cups for every US inhabitant…gross.
• We're ripping about 4 billion trees out of the ground for paper products…sad.
• Your coffee/tea-cup is most likely lined with polyethylene, so it won't be recycled so it'll end up in a landfill.
• Litter is a big issue.  How many of these cups do you see thrown on the ground or left in stores on shelves?
• What about those plastic lids?  Yeah, about 700-1,000 years to biodegrade.  In a word?  Senseless.  In another word?  Unacceptable.
My full review on KeepCups is here.
SHOWER
I've gone on about how much I love my filtered shower water head that I've had for many years.   Why a filter? Chlorine vapors are unhealthy to be breathing in, unfiltered water dries out the skin and hair and filtered water will keep your hair color longer. How about shaving your legs?  Well, it just got cooler as you can get a Preserve razor (I've had mine for over 5 years now, I just buy new blades.  Can you imagine how much plastic I've saved?)  These razors are made from recycled yogurt cups and will, once again, be recycled. You can also save yourself the plastic shampoo/conditioner bottles by getting a multi-use Rosemary Avocado Shampoo Bar from Meow Meow Tweet that you can use on both your hair and body.
TEETH
One of the big changes you can make (because lots of toothbrushes and flossers are found during beach cleanups) has to do with your teeth, believe it or not.   First thing you can try is to brush your teeth without toothpaste that's in packaged in plastic, but rather try out this highly recommended, and super affordable DIY toothpaste. You can get yourself an inexpensive Preserve toothbrush that has been made out of recycled yogurt cups and will be recycled into another toothbrush when you're finished with it (they have a great program where you can send back your toothbrush or drop it off at a local Whole Foods).  If you want to use a bamboo one (free shipping – site-wide at Petal and Post with code: GPJ), that's great too, as it's biodegradable, has non-BPA bristles and the packaging is compostable.  Floss containers are also a colossal waste…a little plastic container that goes straight into a landfill?  Ugh!  Eco-Dent is housed in a paper container that is recyclable.  Plus, it's inexpensive AND there's lots of floss in there.  I swear by it.

FOOD SHOPPING
It's SO easy to bring your own bags now.  My all-time favorite reusable bags are from Bag The Habit.  I've been using them for years now because they have awesome padded handles and last forever.  In addition, they've got produce bags, so you don't have to use those green plastic bags anymore when you shop for fruits and veggies.  Their signature fabric is made with 100% recycled content like plastic bottles and manufacturing scraps.  Also, the production of this material means less water consumption, greenhouse gas emissions, and landfill waste.  Trust me on this, these will be your best reusable bags yet.   Sign up for their email and get $5 off, too!

YOUR HANDBAG AND WALLET
They use plastic bottles for their bag linings!  I've recently become obsessed with a vegan and sustainable line of handbags, shoes, wallets and more by  Matt + Nat. They use over 1 million plastic bottles a year to line their bags with and that makes me pretty happy. They've also recently starting working with recycled bicycle tires, too and use other sustainable materials like cork.  They are beautiful bags and it just makes so much sense to me to get rid of our plastic in such a great way.

AMORE
Have you heard about Sustain?  Well, here's your new best friend.  I was just going to write about their condoms today, but then I just received their brand new lubricant in the mail.  Let me tell you, I had no idea that conventional lubricants can increase the risk of contracting and transmitting an STI due to the cellular damage they cause. Sustain's organic lubricants (in lavender and unscented) are free of petroleum, parabens and glycerin.  And did you know that 95% of traditional lubricants sold in the U.S. are petrochemical based? Oh, my!  Regarding the condoms, the latex for Sustain's condoms come from one of the most sustainable rubber tree plantations on the planet, located in southern India.  It also provides work for 180 rubber tappers and their families.  They also donate 10% of profits to provide reproductive healthcare to low-income women in the US and their products are vegan certified, and free of dyes, fragrances, and spermicides.
EATING + DRINKING OUT
Instead of using plastic utensils when you're out, bring your own reusable utensils and if you're having a party or an event where you need straws, make sure to get yourself some gorgeous reusable straws.  Having a party? Amazon has beautiful Chevron paper straws that definitely are better than plastic and look it, too.  They are affordable and look wonderful sticking out of a drink.  Did you know that each day we use 500,000,000 straws and most end up in our waters?  Seems like a huge waste for something you use for 20 minutes.  A plastic straw will take between 700-1,000 to biodegrade too…whatta waste! In addition, if you're having a party, you can also get your table wear from Earth's Natural Alternative or any compostable table wear brand.  Seeing a black plastic bag filled with plastic plates, forks and knives just about kills my soul.  Let's have better parties, okay?  DEAL:  Petal + Post has a big selection of eco home products and with code: GPJ, you get free shipping site wide!  
WATER BOTTLE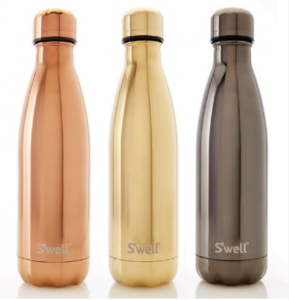 Who doesn't love a Mason jar?  I use one of these every time I go to the gym.  This bottle can be used over and over and rids you of the need for a plastic straw.  Use for hot or cold, it's gorgeous and eco.  Great for keeping in the house, too.  I also love these S'Well bottles for carrying around…I mean, they are gorgeous!  DEAL:  Petal + Post carries S'Well bottles and with code: GPJ, you get free shipping site wide!  
LAUNDRY
Even though I was buying eco-friendly laundry detergent packaged in an eco-friendly container, there was still a plastic cap on the bottle and that annoyed me.  So, I got myself some compostable and eco-friendly soap nuts.   You use about 3-4 of them per load (they can be used until they break down) put them in a muslin bag, throw the bag in your laundry and start washing.  They also soften clothes, so there's no need to use dryer sheets.  For cold water cycles (which we all should be using) just take your bag of soap nuts, soak for a minute in a little in hot water, and throw both the soapy water and the wet soap nuts in the wash.  The hot water helps the soap nuts get prepped for their job.
*This post contains affiliate links so if you purchase, I may get compensated for my writing.  Isn't that wonderful?  Thanks for your support!
Click Here For Original Source Of The Article