The green beauty toner game has just been kicked up quite a few notches with the release of Siam Seas' new Yen Heal and Hydrate Toner.  This super nourishing face treatment is so, so, so much more than just a toner.  Oh, and creator Supadra is offering you a deal of your choosing, so get on this!  See below for details.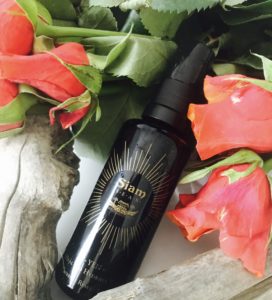 In my opinion, Siam Seas' new Yen Heal and Hydrate Toner is a total breakthrough product.  And because I've heard other green beauty bloggers singing its praises as well, I know I'm not alone in that.  If you know me, you'll know that I've been a toner fan since forever and I use them daily to hydrate my skin a bit and make applying my face oils easier (gives it a better slip).  The truly impressive thing about

Yen Heal and Hydrate Toner

is that the ingredients were chosen to go way beyond providing a little hydration. This toner is more of a moisturizing spray serum (so cool, right) that delivers antioxidants to the skin while protecting it and leaving it with a dewy, healthy glow. 
THE LOOK + SCENT
The first thing you'll notice with Yen is the gorgeous packaging.  This is definitely a product that I have loved having on my sink (and now my desk as I spray it throughout the day).  The spray itself has a pretty good reach, so you can hold it 8 inches away from your face when you spray.  The second thing you'll notice is the absolutely exotic, sexy scent of this toner.  Its' B E A U T I F U L.  It's so different in that it is both spicy and floral and I love that combination.  From what I see on the ingredient list, I'm guessing the scent comes from a mix of the Rose Geranium Oil, Ginger Lily, Vanilla and Piperine (giving it that peppery, spicy kick that I'm so in love with).  This scent is so good that I'm wondering if Supadra would ever consider making a fragrance of the same scent…!
THE PERFORMANCE
Allow me to tell you the story of how, for two days in a row, after having used Siam Seas' Morning Delight cleanser (a sample of which you can get when you purchase Yen) and then following up with Yen, I completely forgot to apply my coveted face oils that I use on a daily basis because this toner is that moisturizing. Yep.  Yen left my skin so hydrated and dewy, that I just forgot to add my moisturizer and when ahead and applied my makeup.  Oh, and while we're on the topic of makeup, I highly recommend that you use Yen both as a prep before makeup and to set your makeup after.  With a base of Aloe Vera and hydrosols of cucumber, geranium, lavender and chamomile, you know there's nothing watered down here.  Yen contains 27 botanical extracts to improve skin elasticity, help the skin retain moisture and it also provides a pure layer to protect the skin so cells may repair and renew themselves.  Beyond that your skin will just feel so, so nourished.
THE DEAL
Supadra (sweet as can be) is offering one of two deals that you'll get to choose from with your purchase of Yen Heal and Hydrate:
Use code:  delight (lower case) to receive a free 12 ml bottle of their new Morning Delight Cleanser*
or
Use code: yen10 (lower case)  to receive 10% off your purchase  
*Morning Delight is a morning cleanser that doubles as a makeup remover.  It contains enzymes to exfoliate dead skin cells, antibacterial mangosteen extract to fight bacterial infected acne and antioxidants to help support the skin barrier.
This is a sponsored post.  All opinions are my own.
Click Here For Original Source Of The Article