Alluvian is a green men's line that is not only sexy looking and (be still my beating heart) plastic-free, but the formulations and scents are total perfection.  Alluvian also gives part of their proceeds to 5 Gyres to help fight plastic in our oceans!  The best endorsement? My boyfriend is completely hooked and has now switched out his toxic products for Alluvian's.  Try them now and get 23% off of your order with code: Alluvian23.  
SHAVING TINS
Okay, so without any coaxing from me, my boyfriend completely made the switch from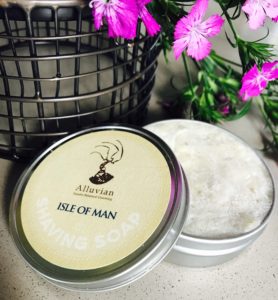 toxic Barbasol to the gorgeous Alluvian Shaving Soaps.  There's a few different shaving cream scents and he's loving both of the ones he tried equally. As you may know, having someone quit what they've been using for many years is usually an arduous task, but he loved the feel, scent and performance so much that it was a no-brainer. Instead of drying out your face like so many of these shaving creams do, Alluvian's shaving soaps contain plant-based ingredients to moisturize the skin like kokum butter, avocado oil, Irish sea moss and essential oils.  The scents are earthy, masculine and sexy and the plastic-free tins are so easy for travel.  Make sure to get yourself one of their gorgeous wood shaving brushes, too.
REJUVENATING AFTERSHAVE SERUM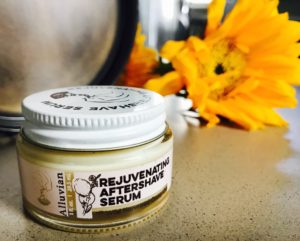 Alluvian's Rejuvenating Aftershave Serum balm is a true find for me.  Why? Well, I'm constantly being asked for a great aftershave and until this, I was pretty stumped.  My own father had been asking forever and I kept giving him the, "Okay, I'll research one for you."  Well, this is it.  Many aftershaves contain alcohol (I know, seems counterintuitive, right?) and they barely moisturize the skin.  Alluvian's moisturizing serum comes has a balm consistency (great packaging for travel, too) and is packed with skin-conditioning ingredients like virgin organic shea butter, wild-harvested cacay oil, organic prickly pear cactus oil, wild carrot seed oil, and Moroccan neroli and agarwood essential oils.  You need so little (only a dime size amount) and will have soft, hydrated skin that's free of any irritation.
100% plastic-free…can you imagine the amount of plastic you're saving by having your man make the switch over to this?  Probably one of my finest green beauty conversions to date was having my boyfriend make the switch from Brut deodorant (I know…Toxic City) to Alluvian's Natural Deodorant after only having used it twice. It was the perfect day to test it out, too as it was 91 degrees in Texas and we were walking around in the blazing hot sun.  Let's just say that it not only held up, but he smelled great, too.  This deodorant comes in a biodegradable, plastic-free tube and it's also wonderful for travel.  There's zero synthetic chemicals, aluminum, or dyes but instead, skin-nourishing ingredients like nahcolite, kokum butter, Irish sea moss, and essential oils.  Not only does he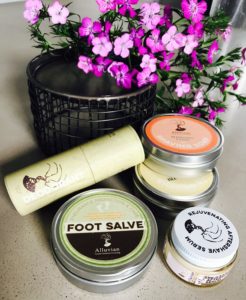 love the performance of the deodorant, but he's loving the feeling on his skin. Added bonus?  It's completely affordable at $11.95 each, but I recommend getting the 3-pack, which makes them $10 each.
FOOT SALVE
I have a thing for feet.  And, in that, I mean that I like to keep mine pedicured and soft.  So, I was thrilled to see that Alluvian carried a Foot Salve (especially since it was one of the products that I could actually test out since it's a men's line).  Well, I have to say that I've been throughly enjoying applying this to my feet before bed and look forward to bringing it along to my future pedicure appointments.  Not only is it incredibly moisturizing, but this foot salve is anti-friction, anti-microbial and anti-fungal (perfect for you outdoorsy and athletic peeps).  In addition, it helps to prevent blistering, so it's not your average foot salve.  I think this is wonderful and a must for anyone (not only guys) who get dry, cracked feet.
DEAL
John Cowan, creator of Alluvian, has generously offered my readers a wonderful 23% off their order by using code: Alluvian23.  Shop HERE.
Click Here For Original Source Of The Article