FUN!  COOL!  SMART!  EASY! 
Most definitely one of thee coolest ideas I've experienced in the area of health, Care/Of  

i

s changing up the vitamin and supplement game.  See why I think it's so super smart and just ideal for travel.  Plus, my readers take 50% off of their first subscription, here 

with code: GREEN50

!
I just love this concept.  Not only is it very smart and modern, but it's also truly affordable and the vitamins/supplements are pure and clean.  For the past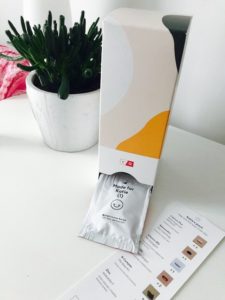 few weeks I've been testing out Care/Of Vitamins and here's why having personalized vitamins and supplements delivered to my door appealed to me straight off the bat:
I'm the type of person who isn't sure what vitamins and supplements I should be taking
I run out of my vitamins and supplements often and it's an absolute pain
Vitamins and supplements are super, super expensive (especially if you're not even sure what you're taking is what you actually need)
I never know if I'm buying the best quality out there
HOW CARE/OF WORKS
To get started, you'll fill out a super-easy personal survey which was actually a lot of fun for me because it helped me to realize just why I need to be taking vitamins and supplements at all (diet, lifestyle, energy, etc.)
After you've filled out your profile, Care/Of will show you what they recommend for you and why they're recommending it.  The great news?  They pride themselves on being honest, so you won't have to worry about ending up with 1,000 vitamins.  To my surprise, I only ended up with a total of three vitamin/supplements (which was much less than I was taking at the time).
Finally, they'll send you the vitamins in such gorgeous packaging (little individual packets that I was able to throw in my bag and take on vacation with me, t0o).
WHY IS CARE/OF BETTER FOR YOU?
Care/Of  is creating clean vitamins & supplements with high quality ingredients.  You can also add any vitamins or supplements if they're not recommended to you.  In addition, you save up to 20% with Care/Of because they sell directly to you without brick-and-mortar costs and retail markups!   Plus, you can trust their team to know what you need and don't need to be taking, like Ashwagandha for stress, Elderberry for immunity and Magnesium to help your sleep.   I just love this concept and it was great to just throw the packets into my bag when I was traveling because there was NO way I'm was bringing bottles or putting them into little baggies!
50% OFF FOR MY READERS
My readers take 50% off for their first subscription with code: GREEN50.  Get personalized daily vitamin packs monthly here.
I'm an affiliate with Care/Of and that means that if you purchase, I may receive a commission.  All opinions are my own and I only write about what I love. Hope you'll give 'em a try…so convenient! 
Click Here For Original Source Of The Article