I'm just totally loving on these new products that I've been using from One Love Organics, Mahalo, True Botanicals, EvolvH and Red Apple Cosmetics!

This is a KEEPER.  With so many face serums out there, it's so nice that a new face cream has just been released.  The Skin Dew Coconut Water Cream is everything that you'd expect it would be from its name:  light, refreshing, hydrating, and with the subtle, creamy scent of baby coconuts.  Not sure how, but One Love Organics was somehow able to make the mix of coconuts and water into a dreamy cream.  The cream looks thick, but it's so light and feels so fresh going on the skin.  I've been filling up a little jar with this and keeping it with me in my makeup bag for extra hydration during the day, on flights and to renew my makeup throughout the day (simply pat it on your face).   This is a definite re-purchase for me and I don't say that very often. Oh, and this cream is also great for warmer weather and for prepping the skin before your makeup application!
This is Mahalo's handcrafted lip-plumping matte red lip color!  Red My Lips is made using the best of the best natural waxes, organic oils and a collagen amino acids infusion to plump up the lips.  What's truly cool about Red My Lips?  20% of all sale proceeds of the Red My Lips tint will be donated to the RedMyLips.org, "a non-profit organization that runs a month-long global red lip-wearing campaign every April where supporters join together to speak out against rape myths and victim-blaming, give support for all survivors and raise awareness and funds."   This lip color is absolutely striking and is set in Mahalo's signature bamboo case with a vegan lip brush.  It is totally moisturizing, yet gives a matte finish.  Wear it with nothing else but a little concealer and mascara and you've got that 40s look, too!
True Botanicals New Travel Sizes + Grove Scent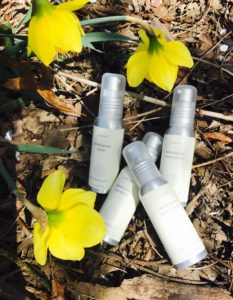 What has this brand ever come out with that hasn't been loved by everyone?   Right now I've been using the True Botanicals Grove Body Wash and their Grove Nourishing Lotion and I can't stop sniffing myself.  The scent of Grove is defined as "woodsy and citrus" but I get this gorgeous, 'the-grass-has-just-been-cut' scent along with a field of flowers.  The Nourishing Lotion is light and hydrating, and the ingredients have been carefully chosen to not only hydrate, but to also fight free radical damage with potent antioxidants.  Some other cool news?  True Botanicals is now carrying their shampoo, conditioner, lotion and body wash in travel sizes and they are gorgeous in their little aluminum containers. Plus, they are re-fillable, too! Oh, and while I'm at it, check out their special discounted prices on their new Clear Collection for acneic skin!
EvolvH Restore Discovery Kit
It's no secret that my new favorite hair care line these days is EvolvH, so it shouldn't come as a surprise that I just absolutely adore their new Restore Discovery Kit.  Why do I love it? Because I think it's a great way for people to try out their shampoo, conditioner, hair mask and leave-in conditioner without having to commit to larger sizes (although I'm certain you will want to after you try them).  I got hooked on this line a few months ago and I think it's a huge endorsement that my NYC hair salon is now carrying their line after hearing me raving about it.  I look forward to taking the Restore Discovery Kit on my upcoming beach vacation as I know the leave-in conditioner will be mandatory with all the salt water, as will the hair mask each night (btw, the mask is not heavy at all, but will leave your hair so soft and healthy).  Oh, and this kit is less expensive than if you were to buy them separately, so go for it!
Click Here For Original Source Of The Article