Woo-hoo!  Meow Meow Tweet's got some new vegan products just in time for the sweaty season of Summer!
So, refreshing, so conditioning, I have SO been loving using the new underarm primer from MMT.  I wish they had this years ago when everyone was comp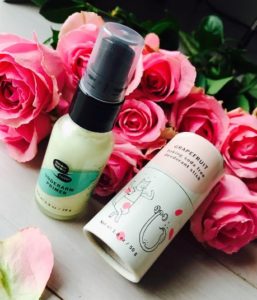 laining to me about their irritated armpits, because this is lovely!  I'm sure you're wondering what exactly a deodorant primer does and here's the low down.  But, allow me to first say that it feels so refreshing going on, my deodorant lasts longer and my pits feel so soft and smooth.  Get it here.
What does it do?
Helps deodorant last longer and makes it more effective (yes!)
Moisturizes and conditions irritated underarm skin after shaving, working out, etc.
Rids your precious pits of deodorant build-up
Balances pH
Can also be used alone, without deodorant or on your face or anywhere else you need moisture!
Formulated for sensitive skin, everyone can use it and benefit from it!
If you know anything about me or my blog, you'll know that I'm a HUGE fan of Meow Meow Tweet's Baking Soda Free Deodorants.  For years I've been using their cream deodorant in grapefruit and love the scent.  It's just so fresh and citrusy.  Due to popular demand, they've just released the grapefruit scent in their compostable stick deodorant tube!  This deodorant is zero waste and that's a big deal!  This deodorant comes in a full size and mini for travel or throwing in your bag for the gym!   Get it here!
I'm an affiliate with Meow Meow Tweet and I may make a commission if you use my links. Thank you for supporting me and my blog!
Click Here For Original Source Of The Article