Okaaaay…this month's Beauty Heroes February Box features Osmia Organics and two of my favorite products from them!   Experience Night Body Oil and the fantastic Lip Doctor…a $76 value for $39!
Beyond being pretty darn friendly with Osmia Organics' creator, Sarah Villafranco, I'm also a huge fan of her work (or "her art" as I like to call it).  A cult favorite in the green beauty world, there's just so much to love about this handcrafted line from Carbondale, Colorado.  From their pure ingredients, to their signature scents to the performance of their products, you'll know as soon as you try them that you've come upon someth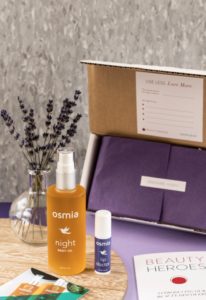 ing totally different.  Beauty Heroes has made two excellent choices from Osmia for their February box, especially since it's Winter.  One of the products included in the box is my favorite body oil from Osmia, Night.  This super relaxing (and hydrating) body oil not only smells absolutely beautiful, but Sarah says that the ingredients were chosen to, "signal the autonomic nervous system to relax and restore."   
You'll also get one of Osmia's newer products, Lip Doctor.  It's the balm that I've had in my makeup bag for the last few months.  I love that the container is bigger than most and is so easy to apply.  With only six ingredients and zero essential oils, smooth Lip Doctor is perfect for sensitive types and for kids, too.  I would also recommend rubbing some of it on your cuticles to save your manicure!  It's made with organic avocado, argan and olive oils, beeswax and even some lavender that they harvest themselves.  This is a an absolute steal for $39, right?  Get it here.
WHAT'S BEAUTY HEROES?
Beauty Heroes a monthly green beauty subscription box that is an unbelievable $39 a month with 3-, 6-, and 12-month membership packages for $115, $225 and $450, respectively. To give you an idea of the savings involved here, this month's Osmia Organics' box has a value of $76 and sells for $39! Each month you'll get a full-sized, high-quality, green beauty product and a generous sample of a sidekick product.  In addition, as a Beauty Heroes subscriber, you'll get 15% off EVERY SINGLE DAY in their Beauty Heroes Shop. What's in their shop?  Mahalo, Maya Chia, Modern Minerals, Bottega Organica, Suntegrity,True Botanicals, Kahina, Mun, Laurel Whole Plant Organics and a lot more. Get this month's box here.
Click Here For Original Source Of The Article