JOSH ROSEBROOK
Vital Balm Cream is the perfect name for this little guy.   Vital has the consistency of a light cream that absorbs so well, but on the skin, it hydrates like a beautiful balm.  If you ask me, it's a brilliant concept.  The scent is also so addictive and I find myself just sniffing the jar while I'm working.  Josh describes the scent as, "Blue Tansy, Frankincense, Ylang Ylang, Lavender and Vanilla – very soft – not highly concentrated or overly aromatic."  Vital Balm Cream has many benefits for the skin: it hydrates, helps to lock in moisture, plumps, softens and helps to regenerate the skin. This is also wonderful for travel as you can press a little bit of it on the skin over makeup to add moisturize. Great for dry, mature and even normal skins.  Get it here.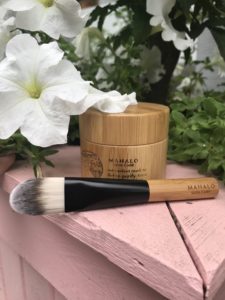 BEAUTY HEROES
Mahalo is August's Beauty Heroes!  This month get The Bean Antioxidant Mask and their Bamboo Beauty Brush (which makes application so much nicer) for $39.  If you haven't tried The Bean yet, now is your chance. The Bean exfoliates, detoxifies, softens and leaves the skin feeling moisturized and glowing.  It's a great way to give your skin a total re-start.  Plus, it smells like a mix of chocolate and coffee.  I had the mask on earlier and now my skin is bright and soft.  My tip?  Make sure to apply the mask to damp skin so that it slips on better.  Get it here.
KARI GRAN
Lip Whips are definitely green beauty favorite.  Between the colors and the creamy consistency, these minty little pots of sheer, glossy color are the way to go if you love a tinted balm.  Kari Gran's latest release is Jeannie, a pretty berry shade that's creamy and really tempting to keep applying all day long.  The ingredients are pure with a combination of organic oils, organic beeswax, non-GMO vitamin E and a hint of organic peppermint essential oil.  Jeannie just came out this Spring/Summer, but I think that it's a great color for Fall, too!  Get it here.
SKINOWL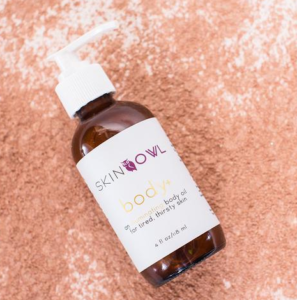 This is the Summer o' Skinowl.  They have just released a Body Oil + which is their FANTASTIC body oil with a rose gold shimmer to it! Honestly, it's so great because it's subtle and just gives you that "Jennifer Aniston on a talk show" look…glowing and fresh. To be honest, a rose gold shimmer looks the most natural to me on the skin. While I'm on the topic, I'm completely out of it, but their original Body Oil without any shimmer is one of my all-time favorites, so the shimmer just kicks it up a notch! Another product that's just been released that I'm reaching for like crazy is their new vegan Beauty Whip, a soothing and moisturizing mask, a makeup primer and a booster for your face oils.  I've been keeping mine in the fridge (as recommended by creator, Annie) and it's been so good for my skin. This mask has seriously great ingredients, too: Hyaluronic Acid, Organic Olive and Jojoba Oils, antioxidant-rich Patagonian Maqui Berry, Organic Rooibos, DMAE to tone, and MSM for smoothing.
Click Here For Original Source Of The Article