Meet handcrafted Oil + Water,

straight from New York!

  Their philosophy?Keep their formulations simple, pure and effective.  The feel, the scents and the super gorgeous packaging have won me over.  Try them now! Take 10% off with code: GPJ0217 and get free shipping from Feb 7-14th for Valentine's Day (no code).
CLEANSING
EMULSIFYING BALM   Balms are big these days.  People are realizing that they can get a much better cleanse and softer skin by using a product that loosens makeup and impurities with an oil massage as opposed to scrubbing their faces with harsh product.  The Emulsifying Balm from Oil + Water has a thick and creamy consistency that, when mixed with water, really loosens up makeup and dirt.  I like to put a bit in my palm, add some water (this turns the balm into a creamy lather) and then I massage away.  Follow up with a warm, damp cloth to gently wipe all of it away and you're left with baby soft, clean skin that feels plump and dewy. This balm can also be used as a balm on super dry skin, just massage in a small amount and you're done.
DETOXING
HERBAL CLAY MASK  This pure and gentle detox mask left my skin brighter, cleaner and feeling renewed and toned.  The best news?  It leaves the skin feeling soft, not tight or dry like other detox masks have the tendency to do.  This mask is great for all skin types, especially those suffering from acne.  I love the idea of treating and healing acne gently, as opposed to drying it out and exacerbating the problem.  The Herbal Clay Mask can also be mixed with ingredients beyond water like raw honey, witch hazel or a hydrosol.  I also love mixing it with fatty yogurt to brighten up the skin and leave it even softer!  The ingredients were chosen to draw out impurities, repair skin, help heal breakouts all while keeping the skin hydrated with jojoba oil and organic aloe vera.  Oh, and it smells fresh and citrusy (my favorite).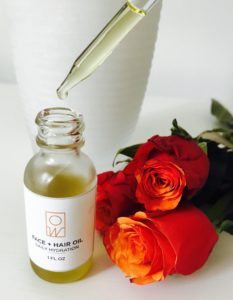 HYDRATING
FACE + HAIR OIL  First off, I have to comment on how absolutely fantastic this organic oil smells. I actually wrote to the creator and asked her what it was because it was so beautiful.  Turns out it's Roman Chamomile and I must tell you, it might be the best smell out there next to apple pie. This face oil (I have not used it on my hair yet because I want it for my face – I know, face always wins) is so light that if you're not a fan of heavy oils, you will love it. It's great for all skin types and perfect under makeup or as a body oil.
FOR LIPS
LIP TINT + BALM   Oil + Water has two lip conditioners: tinted and un-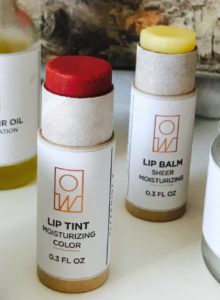 tinted.  I love myself a tinted lip balm, especially one housed in a "100% compostable paperboard tube that carries twice as much product as a standard plastic tube."  Go, eco! The tinted balm gets its color from wild-harvested alkanet root and the shade is a translucent berry pink. With lots of moisturizing ingredients like organic sunflower oil, coconut and cocoa butter, the tinted balm leaves a really nice slip on the lips that is neither heavy nor waxy. The scent of the tinted balm is a pretty mix of Bulgarian rose and spearmint essential oils. I'm wearing it now and highly recommend this for when you don't want to be re-applying a lipstick all day or just love a natural, rosy look to the lips! 
The untinted balm uses extra virgin olive oil, coconut oil,  shea butter and cupuaçu to keep lips moisturized and the scent is a mix of spicy mix of ginger root and sweet orange essential oils.  I love the ingredients, eco-conscious packaging (this is important) and the feel of these babies!
THE OFFER
Use code: GPJ0217 for 10% off through the end of February. Also get free domestic shipping from Feb 7th through the 14th  (no code necessary).
This is a sponsored post.  All opinions are my own, gosh darnnit! 
Click Here For Original Source Of The Article