Perfect timing! 

 Erbaviva

has created a two-phase skin-toning detox treatment that's not only firming and detoxifying, but also relaxing and skin-softening at the same time.  It's the closest thing to having a real detox treatment at home, honestly.  Plus, my readers get a free travel size Firming Oil with any purchase of $20 or more…just see below!
I've tried a lot of salts and Erbaviva's Shaping Salt is really different.  How so?  Well, this isn't just an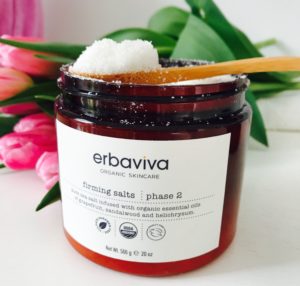 exfoliating salt scrub.  Shaping Salt is a treatment that changes the feel of the skin, way beyond just softening.  First off, this salt can be used both in the bath and topically (I've been using topically until I get myself near a proper tub).  With the certified organic essential oils of pink pepper, grapefruit and ginger, Shaping Salt helps to alleviate water retention by stimulating circulation and detoxifying, similar to a body detox treatment you'd get at a spa. I've been using it in the shower along with a splash of their Firming Oil, rubbing it into my skin, leaving it on while I shampoo/condition and then rinsing it off. It's a bit difficult to explain how the skin feels, but there's a true firming and detox feel to it which is really unique, along with the benefit of incredibly smooth skin.  This is a nice big jar, but I have to tell you, I still fear running out before Spring/Summer as I'm thinking this is exactly what I'll need before any skin-revealing outfits come the warmer weather.  It's definitely a winner for bathing suit season.
FIRMING OIL PHASE 2
I love the idea of products that not only feel good and smell good, but are also super effective.  USDA Certified Organic Firming Oil Phase 2 has a rich base of olive and avocado oils to promote skin elasticity and cell regeneration, making it the perfect companion to Shaping Salt.  Every ingredient serves a purpose in this light oil with frankincense for inflammation, skin tone and wrinkles, helichrysum for inflammation and skin regeneration and sandalwood to calm and hydrate. I've been truly enjoying taking a palm-full of this oil and mixing it with the Shaping Salt in the shower as a treatment.  I've also been using it alone post-shower. It's light, so it absorbs very quickly and it leaves the skin hydrated and dewy.  Extra bonus?  The subtle, pretty, fresh scent.  Again, used along with the Shaping Salt, this would be perfect for Spring/Summer skin that needs a good firming, detoxing and hydrating treatment!
DEAL
Erbaviva has generously offered my readers a pretty sweet deal!  Use code:  "greenbeauty1"  for a free travel size firming oil with your purchase of $20 or more.  Just add the Firming Oil to your cart and enter code: "greenbeauty1" at checkout. *Limit 1 per household. Offer expires August 31st, 2017 at 11:59PM.  Link to free gift here.
This is a sponsored post, all opinions are my own.  Loving it!
Click Here For Original Source Of The Article