This time of year is just too tempting if you're into green beauty!  With lots of limited edition boxes and gifts with purchase, you could really end up…uh, happy!  Here's some of my picks…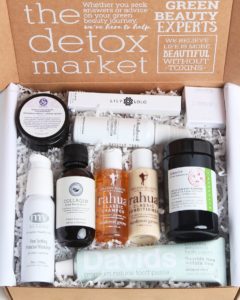 The Best of Green Beauty Box from The Detox Market is here!  TDM has put together 9 of their best selling green beauty products of 2017!  The box has a $310+ value and will retail for $149 only!  Get it here.
Here's what's inside the box:
– MV Skincare Rose Soothing and Protective Moisturizer, $135
– Josh R's Hydrating Accelerator, $20– Odacité Green Ceremony Cleanser, $55
– Beauty Chef Collagen Inner Beauty Boost, $16
– David's Natural Toothpaste, $7.95
– RMS Beauty Vintage Cake Liner, $24
– Lily Lolo Natural Vegan Mascara in Black, $20
– Soapwalla Sensitive Skin Lavender Mint Deodorant Cream, $16
– Rahua Shampoo and Conditioner Travel Set, $16.50
***
Mun is offering a free Mykilim Moroccan Clutch

with any $300 Purchase at Mun now!  Each clutch hand-woven by Moroccan artisansis and is one-of-a-kind.  With a $75 value, it's yours for free with every purchase over $300 or with the purchase of the Full MUN Collection.   Get it

here.
Full MUN Collection at $300

(instead of $393).  Mun is offering their fans the entire Mun collection for almost 25% off!  In addition, you can apply any promo on top of this one!  Get it

here.
Free mini Aknari with every full-sized Aknari purchase. We love the idea of slipping this mini into a makeup bag for a quick touch-up throughout the day.  Get it

here.
***
The Choosy Chick

is giving with their The Green + Glamorous Box for Living Beyond Breast Cancer has a $160 value for only $98.  So many of my favorites in here, like Magic Organic Apothecary, David's and Lily Lolo, too!  Plus, 20% will be donated to Living Beyond Breast Cancer.   SHIPS FREE in the US.  Get it

here.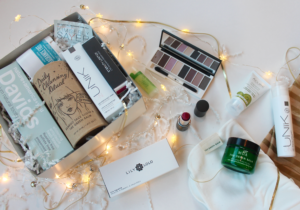 – DN-UNIK Age-defying Night Cream or Day Cream (full size – $49 val)
– Magic Organic Apothecary Daily Cleansing Ritual (full size – $27 val)
– Lily Lolo Eye Shadow Palette Sweet Nothings (full size $34 val)
– Au Naturale Eternity Lipstick in Sangria (full size – $25 val)
– Davids Toothpaste (full size – $8 val)
– Splurge Lip Buttah (full size – $7 val)
– Schmidt's Sensitive Skin Fragrance-free Deodorant ( travel size – $4 val)
– Acure Brightening Facial Scrub (travel size $3 val)
– Kimberly Sayer Antioxidant Day Cream (sample $2 val)
*This post contains affiliate links.  Thanks for reading and supporting me, I'm grateful for ya!
Click Here For Original Source Of The Article